Yesterday, my husband met me with our two sons at his sister's baby shower (where I had been assisting with set-up and food prep). He turned to me and said, "This is Eli's third outfit today. As I was scraping the poop off his second pair of underwear for the day, I thought of Dick Cheney and realized that Eli's potty training is in its 'final throes.'" To which I replied, "Have we turned the corner?" He shook his head sadly.
What will it take? For the love of all that is fair and just in this world, what will it take for my youngest son to poop in the potty? He stays dry all day and all night, loves peeing in the potty (is especially proud of his ability to stand and pee). He'll sit on the toilet for a half hour holding one of the toys we've promised him if he poops — admiring it, talking about how when he poops on the potty he can open the package, etc. Then — nothing. He hops off the toilet, gets his underwear and pants back on and within another half hour has completely soiled himself.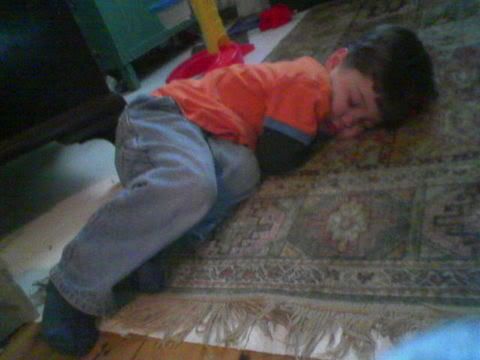 Look at him sleeping so sweetly. Ain't he cute?
sigh
We know this is really common, it's exactly the same thing that happened with our now six year old son. He wasn't fully trained until he was four and pooping in the potty was the holy grail.
So close, and yet so far away….final throes, indeed!UPDATE!!! I was just on the phone with my husband, who suddenly shouted, "Eli's gotta make a poop! Gotta go!" Cross your fingers!!! 🙂
Comments
comments